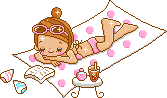 yerro guys

sooo i decided to make a tutorial again

and not just a tutorial, a SUMMER

tutorial
i really enjoyed doing it and i hope it can be useful for you guys

so enjoy the pictures

okayy~

so 1st use a metallic gold eyemouse and apply it with your finger all over your eyelid.
2.Use a darker shade of golden eyeshadow and apply it in the hollows of your eyes.
3.Apply a orange color in the outer corner of your eye.
4.Apply a light green color in the inner corner of your eye and also apply it beneath your eye.
5.Take your eyeliner and make a winglike line on your lid.
6.Make a small line beneath your lid.
7.Fill in your waterline.
8.Set your upperlashes with mascara.
9.Curl your lashes and apply your false lashes.
10.Set your lashes with mascara.
AND YOUR DONE
Hope you liked the tutorial
byeee