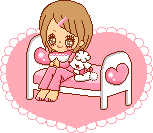 hello guys!

Here are some pic's of how i wanted my hair to last all day this weekend,
but unfortuantly my hair went all flat when i went outside
...
oh well, still had a great weekend xD.. with mah flat hair.



Also had some fun making purikura pics on
Puricute.com

Soo that was that!
i'm gonna get some sleep now xD
byee!

xxoooxxoo