So today i present youu; my new hair colour!

And i used the
Palty Sakura creamy
to make this colour happen

Soo first the pics and later tha review~
Before the dye. (gross 2 month roots
)
After the dye!

(all my roots are goneee!
)
Same colour as the box woohoo!

The review

~
So this is my first time ever that i used Palty hairdye and i ordered it from this seller:
The shipping took only 2 weeks and i bought it for a decent price. ($9,32 + $9,32 shipping fee)

So what do i think of the product?

The packaging of this product is soooo cute! i never want to throw it away lol!

Also
Even though the instructions are all in Japanese you can still understand how to dye your hair because of the pictures they show you.
this hairdye is amazing and it looks just like the colour on the box!
I have let the dye on my hair for about an hour (because of the dark roots) and i started on the roots first because it was reccomended to do so.

At first it kinda burned when i added the dye on my hair (also because i have eczema on my head

) but later on it didnt hurt or itch anymore! wich i'm really amazed about, because i always had experience that my head itched and burned like crazy when i used other hairdye..


Even though my hair is medium long i almost had to use two boxes (even though i had one) becuz the dye was empty very quickly. Also its best if you use your own coloured conditioner afterwards because the amount that they give you for your hair is really not enough for your whole head..


Aniway another ++ is that the chemical smell almost isnt there! it even smells a bit nice

I have no more worries with retouching roots again, when i can just use this product

I really like my hair colour now, cuz it looks like the autumn leaves in my street lol.
A kinda warm brown redish colour


My hair also looks really shiny and healthy and i totally reccomend this dye for people with natural dark hair!

(because it might dont work with coloured black hair

)
So i give this dye a 5/5 because it did its job well!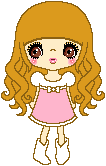 So this was my post for today~
hope everyone has a nice weeek

xxoooooxxoooooo