"Reach"
Aaaand i'm all back with the creepy pasta photo's!
Sorry guys, but yeah.. i feel like a grudge lately haha. For some reason i dont find these pics scary at all since.. it's just me in them xD
I maybe have a creepy mind.. that might be true. But ohwell in the end it's still "just me" xDD
And i also found some new inspiration as well
Since someone commented on one of my pictures saying that it looks like a horror manga and also looks like it could be from Junji Ito's art, i looked him up and thought daaaamn.
I know him from somewhere xD
And i just found out he's a really good horror manga writer!
Showing some stuff: [
warning:
not for people with weak stomaches..
]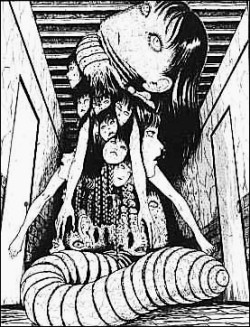 lol i know, freaky right??
I'm inlove with the details !!
It's really inspirational for the kind of pics i'm making lately xD
And i'm thinking of remaking a few of his drawings to make actual pics of them!
I know it will be hard.. lol but i shall be trying my best xDD
hahaha
Aniwayss i shall be leaving you guys with some more freaky pics of me, hahaha.
Good night ~
"Dreamcatcher"
"Monster in the closet"
"You are NEXT"